First and foremost a very Happy New Year 2012 and thank you for all your very kind wishes during my 'Blog Break'. Things are still pretty tricky, but less so with Christmas out of the way.
To start the New Year and back blogging I thought I would introduce Amelie II, a fabulous doll I made for our daughter, Amelie, for Christmas. She named her Amelie II as she was made in her likeness - although less cheeky!
And what is this? Another Amelie II in 'dress down', ready to bake or dust. This is in fact the same doll as it's a '
Topsy Turvy
' doll.
The picture below has her skirt slightly turned so you can see the 'other head'. Not sure why I didn't just roll her skirt right up so you can see her other half completely. Maybe it's because our 9 year old son, Lukas, says it freaks him out as it looks like she's giving birth to the other doll - so I'm sparing you the horror! LOL Or maybe it just seems inappropriate.
I have a bit of a thing for doll patterns at the moment and thought I would share some of my favourite from the 'fountain of crafty knowledge' that is
Pinterest
.
Dolly Donation Rag Dolly
by Sarah - Tutorial and Free Pattern. These dolls are divine!
Black Apple Doll Pattern and Tutorial over at Martha Stewart Crafts
Super cute!
A really great 'Design Your Own' Rag Doll Tutorial by
Becoming Martha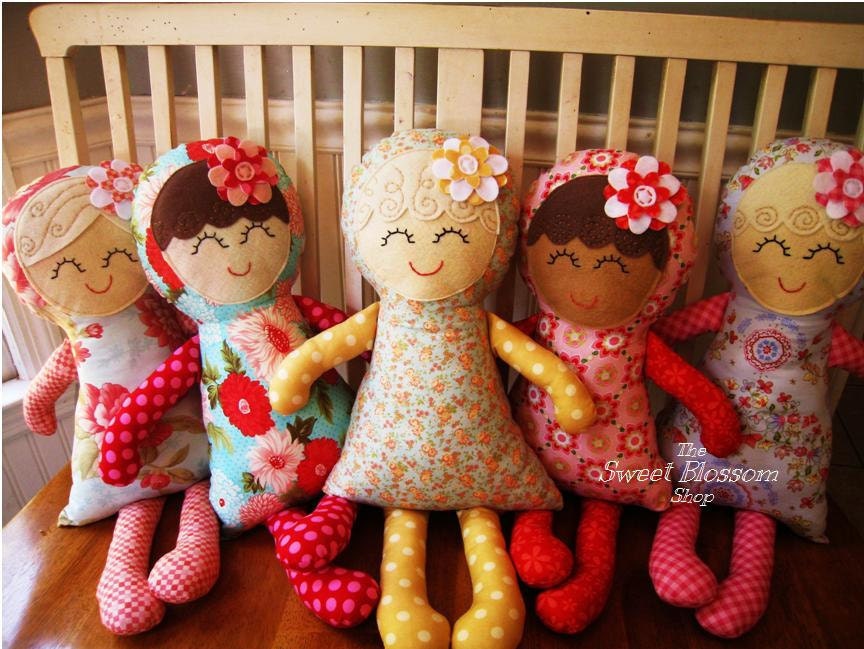 Cute Dolls made and sold by Deborah
I really like this simple idea of pieces of shaped fabric with a face added and voila you have a doll! The polka dot and check legs and arms are adorable.
Cathy Applehead Doll Pattern & Tutorial
This doll is simply lovely, she kind of seems really quite grown up, maybe it's the long striper legs and long boots.
Here is
Emily Burnette's
version of the Black Apple Doll.
Here's a free doll pattern of what I would describe as a classic doll from my childhood (think Jemima from theBBC's cult classic
Playschool
- I'm really going back now). This pattern is from
MakeBabyStuff.Com
.
These dolls all seem to be pretty much from the same type of pattern, it's simply 'all about the fabric', whether you use the body as a patterned fabric 'dress' or have a plain body and add a dress on top. I'm definitely going to design and make some of the patterned body style with a view to maybe selling them on
TheFabricMarketplace.com
.
I hope you have enjoyed checking out some dolly ideas as much as I enjoyed rummaging through Pinterest.
Do you have any favourite dolly patterns?