Yes, you read the heading correctly but this is by no means a political post, for me the
Royal British Legion Poppy Appeal
and
Remembrance Sunday
cannot go by without a mention. The day traditionally put aside to remember all those who have given their lives for the peace and freedom we enjoy today, when people of the nation pause to reflect on the sacrifices made by our brave Service men and women. The first poppy is a tutorial at the
etsyrussianteam
.
Felt Poppies by
Annie the Felt Fairy
in aid of the
Royal British Legion
.
Beautiful Poppy Quilt by
Baltimore Quilt Lady
.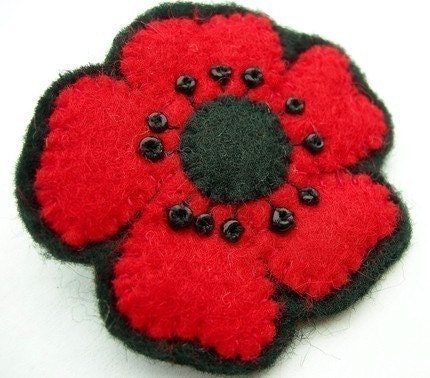 Felt Poppy Brooch by
Lupin
Poppy Brooch by
StitchedWithLoveUK
.
Chanel designer Karl Lagerfeld inspired Poppy Brooch Tutorial.
As appeared in Elle.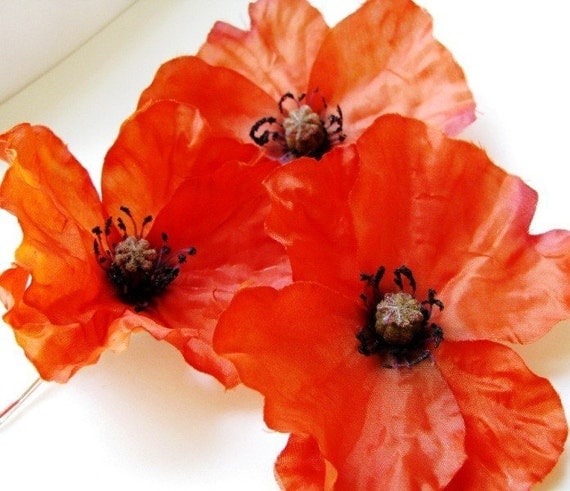 Poppy Hair Pin by
OriginalsByLynnette
.
Poppy Pillow from
GreenerGrassDesign
.
Tiny Poppy Pin by
Wychbury
.
I hope you enjoyed these stunning 'fabric' poppies. Just remember to wear yours with pride!
One last note, some of you may remember my MIL is currently being treated for cancer. It has now come to light that my Aunt In Law (her sister) may have dementia, which involves appointments both with medical and social care workers. As chaperone my days are being filled with driving them to and from appointments, cramming books about dementia plus the every day life of having three wonderful children under 9 and a very patient husband. Thus Blogging doesn't get much of a look in (I neglected the housework today so that I could do this poppy post). I will do my best to keep in touch, especially following all your lovely Blogs but forgive me if I don't manage to keep up - at least until after Christmas.
As always, thank you for dropping by and take care of you and yours!