Alexander Henry's Merry Moderns from SewLoveChristmas, Etsy
Christmas fabrics don't tend to get me drooling, so I decided my mission, should I wish to accept it, was to find some Yule Tide textiles with the Wow! factor.

My first choice, Merry Moderns from Alexander Henry caught my eye because that is so how I wish myself to be Christmas Day. But with 3 children under 7 you can imagine I am far less poised!
How we wish our jolly Christmas shopping to be, unfortunately reality is a little different - at least for me.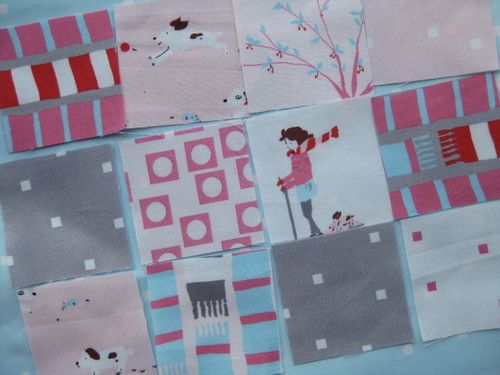 I have been spying this fabric for a while now as the designer, Aneela Hoey, has been Blogging about it and made a darling quilt with the fabric. Strictly speaking it's not a Christmas or even winter fabric but the colours and flapping scarves just makes me feel all Christmassy. Unfortunately it's not available to buy until April 2011! :( Aneela's blogging about it makes the wait more bearable.
Christmas Cubes by PattySloniger at Spoonflower
I love this fabric simply how it makes my eyes go funny, so a kind of optical illusion.
And now for a bit of Vintage, I'm
constantly aware that I don't Blog about vintage fabric enough so I'll trying to make up for it here.
Vintage Nutcracker Sewing Project from BillyandWinston, Etsy
My children would love me to buy and make this, they are big fans of The Nutcracker Suite (the Tom & Jerry version).
Vintage Pine Cone Fabric at Dreaming Of Sewing, Etsy
I wish I had found this fabric when I did my E is for Evergreen feature, well at least I found it eventually. It almost looks hand painted, a really charming piece.
60s Vintage Bauble Fabric at DayGloDiva, Etsy
Wowser! There is something about this fabric that reminds me of fabric from the
Designers Guild
.
I think I can say Mission Complete, my Dream of Funky Christmas Fabric will come true! My favourite has to be the first piece, Merry Moderns as I so want that to be me at Christmas. Which piece is your favourite?
As always, if you are inspired and wish to buy click on the picture heading to buy. Thanks for dropping by! :)