Vie En Rose Floral Bright
Alexander Henry's New Matisse Fabric
isn't due to be released until the beginning of November but I couldn't wait to share it with you.
The
Alexander Henry website
quotes "
Henri Matisse, who lovingly collected textiles his entire life, called this fabric collection his "working library," and used flowers, dots and stripes to up-end the established laws of three-dimensional illusion. Inspired by this concept, these lyrical prints display some of the energy and spontaneity that was signature to Matisse's work.
"
I found
Hancock's of Paducah
have their shop set up all ready to receive orders when the fabric arrives hot off the press.
And now a feast for the eyes!
Vie En Rose Floral Dove
Composition: Coral Cut Out
Amelie Rose
Colour In Stripes Bright
A Still Life Multi
Anja Floral Paisley Bright
Joy of Life Dove
What simply beguiling fabric, I cannot wait to see what all you talented Sewing-istas make with it.
Here are some more works of Matisse, which show just how much he loved fabric. In most of his work the fabric seems to influence the picture more than the subject itself. Fantastic!
Decorative Figure on an Ornamental Ground 1925-26
Snow Flowers 1951
The Moorish Screen 1921
Odalisque with Yellow Persian Robe & Anemones 1937
Still Life With Blue Tablecloth 1909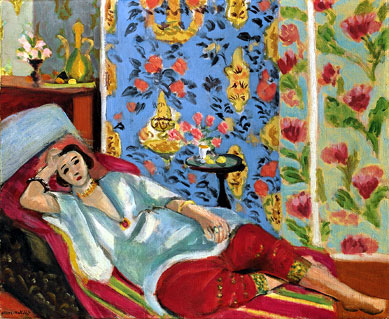 Odalisque In Red Trousers 1924-25
Forgive my ignorance but I kept wondering who Odalisque was and after a little reasearch, it seems it is a 'slave in a harem'. Matisse visited French colonies in North Africa in 1906 and 1912-13 and
re-created the image of the Islamic harem using French models posed in his Nice apartment.

Matisse - His Art and His Textiles
How much do I covet this book?
Matisse is surely the Grandfather of Fabric Addicts! "We are not worthy!"
I hope you enjoyed exploring
Alexander Henry's
simply gorgeous
Matisse Fabric collection
and the Artist behind it.
If you have been inspired and want to buy, click on the heading of each fabric sample.
Thank you for dropping by! :)